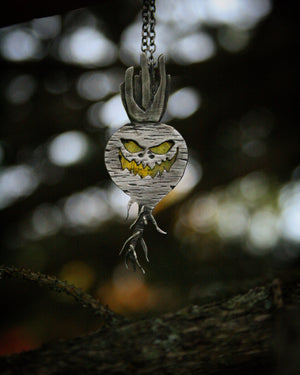 Jack of the Lantern
Sale price Price $308.00 Regular price Unit price / per
Silver Turnip + Baltic Amber — inspired by the origins of the Jack O'Lantern. 18" chain.

The term "Jack O'Lantern" dates back to the old Irish folktale of Stingy Jack — who, after years of tricking the devil, wasn't allowed into heaven OR hell. Jack is doomed to walk in purgatory for eternity with only an ember inside a hollowed out turnip to light his way.

Over time people started carving scary faces into turnips to ward off evil faeries during Samhain, or modern-day Halloween, when the veil between this world and theirs was thinnest. As we immigrated to America, turnips were replaced by pumpkins and here we are! 🎃 I don't know about you but I sliced my finger off just thinking about carving a turnip.