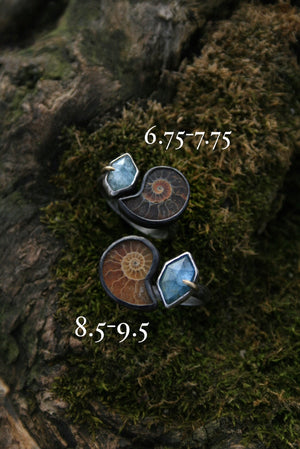 Ammonite + Aquamarine Rings
Sale price Price $250.00 Regular price Unit price / per
Aquamarine + Ammonite //
Agatized ammonite. Hex aquamarine. Silver + brass prong. Open, adjustable bands. Top fits size 6.75-7.75, bottom fits 8.5-9.5. Which is your favorite?
Ammonites were ancient ocean-dwelling cephalopods that died out around 66 million years ago. The hollow spaces inside the shell were filled with chalcedony, a microcrystalline form of quartz, which is what gives them their gem-like appearance!