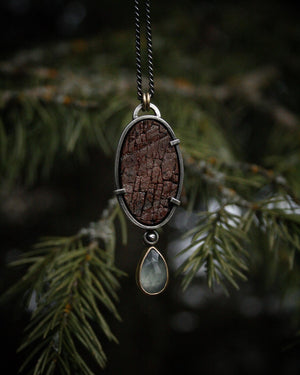 Maple Sap Necklace
Sale price Price $350.00 Regular price Unit price / per
Maple Syrup Season 🍁💧//
Roughly inspired by one of my favorite times of the year back home on the farm — the freeze and thaw of the sugar maples.
Surface etched obsidian representing maple tree bark. Hinged high grade aquamarine representing the liquid gold that is sugar maple sap. Handsawn maple leaf on backside. 16" chain. Silver + Brass. Available in the March update — this Saturday at 10am MT!
Maple sap is about 98% water and 2% sugar — usually taking about 40 gallons of sap to make a single gallon of maple syrup depending on the sugar content that spring. It's a labor of love and boy is it worth it 🤤 Happy Spring, everyone!